September, 2020
now browsing by month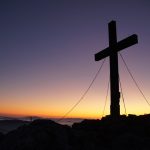 To ask the question, "Who is Jesus and what has He done?" might evoke an answer such as, "Jesus is Lord and He saved us from our sins".  But what do these things really mean?  When asked by Jesus, "Who do you say that I am?" Peter answered, "Thou art the Christ, the Son of the living God" (Matt. 16:16).  To this response, Jesus said, "Blessed art thou, Simon Barjona: for flesh and blood hath not revealed it unto thee, but my Father which is in heaven." (Matt. 16:17).  Jesus spoke of the great achievement that He would make, and indicated how his Father would respond, in the following words: "Therefore doth my Father love me, because I lay down my life, that I might take it again." (John 10:17).  It is not that the Father did not love His Son before His Son laid down His life, but the Father loves Him even more, on account of this great achievement.  The result was that the Father not only "raised Him from the dead" (Gal. 1:1) but has "highly exalted Him" (Phil. 2:9) – so, Jesus is indeed Lord.  We will elaborate a little more on the great achievement of Christ and His present position.
Everyone likes to identify with winners.  So, it is easy to identify with Christ when we are told that Jesus is Lord.  But have we stopped and thought of the real conquering achievement of Christ?  Apart from the fact that He is the Son of God and before He came to earth He had, "by inheritance obtained a more excellent name than they", the angels, (Heb. 1:4), have we thought of the main reason why He is now exalted in heaven? Let us hear the inhabitants of heaven speak.
How Jesus conquered
John was weeping when he saw that no man "in heaven, nor in earth, neither under the earth" was worthy to take a book from the hand of "him that sat on the throne" (Rev. 5:1-4) and open it. But then, John was told: "Weep not: behold, the Lion of the tribe of Judah, the Root of David, hath prevailed to open the book" (Rev. 5:5).  When John looked, this conquering "Lion" was really "a Lamb as it had been slain" (Rev. 5:6).  The Lamb came to "him that sat on the throne" and took the book. Immediately, the inhabitants of heaven burst out in rejoicing, saying:
"Thou art worthy to take the book, and to open the seals thereof: for thou wast slain, and hast redeemed us to God by thy blood out of every kindred, and tongue, and people, and nation; 10 And hast made us unto our God kings and priests: and we shall reign on the earth. 11 And I beheld, and I heard the voice of many angels round about the throne and the beasts and the elders: and the number of them was ten thousand times ten thousand, and thousands of thousands; 12 Saying with a loud voice, Worthy is the Lamb that was slain to receive power, and riches, and wisdom, and strength, and honour, and glory, and blessing. 13 And every creature which is in heaven, and on the earth, and under the earth, and such as are in the sea, and all that are in them, heard I saying, Blessing, and honour, and glory, and power, be unto him that sitteth upon the throne, and unto the Lamb for ever and ever." (Rev. 5:9-13).
The conquering Lion had prevailed and was therefore, worthy.  But what was the great achievement that qualified Him?  The answer was that He died – He yielded His life to the powers of earth and the powers of darkness, allowing himself to be killed, when He could have delivered himself (Matt. 26:53).  By doing so, Jesus provided the one irrefutable argument that discredits Satan's rule on this earth, since there was absolutely no justifiable reason for the Son of God to have been killed.  It all happened under Satan's watch, as the "god of this world" (2 Cor. 4:4).  Satan must answer to God the Father, who "sits on the throne" as the Creator and King of the universe.
Role in creation
It should be noted that "one sat on the throne" (Rev. 4:2) who is the Creator – in reality, and not by mere designation or as an assumed role.  This is evident as the angels in heaven worshiped Him saying, "Thou art worthy, O Lord, to receive glory and honour and power: for thou hast created all things, and for thy pleasure they are and were created." (Rev. 4:11).  The Creator is described as the One "who liveth for ever and ever" (Rev. 4:9), distinct from Christ, the Lamb, who came and took the book out of His hand, and is described, in another context, as the one who "was dead, and is alive" (Rev. 2:8). 
It is important to know who the Creator is, as the final message to the world includes a call to "Fear God, and give glory to him; for the hour of his judgment is come: and worship him that made heaven, and earth, and the sea, and the fountains of waters." (Rev. 14:7).  This is a reference to God the Father, the "Ancient of Days", who presides over the Judgement (Dan. 7:9, 10).  When God spoke to Job, God demanded of him, "Where wast thou when I laid the foundations of the earth? declare, if thou hast understanding…..When the morning stars sang together, and all the sons of God shouted for joy?" (Job 38:4-7).  From this, it is evident that the sons of God and the morning stars were present at the creation.
Christ was also present but unlike the other beings who were present, Christ was actively involved in carrying out His Father's will in the work of creation – "God, who at sundry times and in divers manners spake in time past unto the fathers by the prophets, Hath in these last days spoken unto us by his Son, whom he hath appointed heir of all things, by whom also he made the worlds" (Heb. 1:1, 2); "The same was in the beginning with God. All things were made by him; and without him was not any thing made that was made." (John 1:2, 3).  Christ was therefore the agent by whom the Creator carried out His work of creation.
Many persons have cited the Hebrew word "Elohim", translated "God", in the Genesis creation account to suggest that God is not one person, but more than one person.  In support of that view, reference is further made to God's statement, "Let us make man in our image, after our likeness" (Gen. 1:26). But the Bible clearly states that God, who "made the worlds" (Heb. 1:2), did so by His Son who is "the express image of his person" (Heb. 1:3).  Therefore, God – the One who has a Son in His "express image", said to His Son, "Let us make man in our image".  How does the idea that God is not an individual Being enter the picture?  It is clearly one person speaking to another person – God speaking to His Son.
Thus, it should be clear that when the Bible says that there is one God ("Hear, O Israel: The Lord our God is one Lord – Deut. 6:4), it is a statement indicating that there is one Supreme Being – one individual being – not a number of beings in unison that make up God.  The Jews who coined the word "Elohim" and used it to refer to God, did not hold a concept of God as more than one person or as a composite of several persons.  So, how do those who have embraced the word come to interpret it to mean more than one person? Is ancient idolatry and polytheism alive and well in Christianity, under different branding? Care should be taken to avoid changing the meaning of words and using them to distort the intended meaning.
Behind the scenes
Remember, when "the sons of God came to present themselves before the Lord, and Satan came also among them. And the Lord said unto Satan, Whence comest thou? Then Satan answered the Lord, and said, From going to and fro in the earth, and from walking up and down in it." (Job 1:6, 7).  Satan presented himself before the Lord as the one who represented this territory called earth, when the sons of God presented themselves before God, as though he (Satan) was in charge on earth, of course, subject to God's authority.  In the wilderness of temptation also, Satan took Jesus up into an exceeding high mountain and "sheweth him all the kingdoms of the world, and the glory of them; And saith unto him, All these things will I give thee, if thou wilt fall down and worship me." – (Matt. 4:8, 9).  Satan had usurped the dominion that God had originally given to Adam and was exercising that dominion contrary to God's will.
By Jesus allowing himself to be killed by Satan and his evil host, Satan has been discredited.  Hence, in the judgement, the dominion over this earth will be taken away from Satan (Dan. 7:26).  Christ appears before the Father – the "Ancient of Days" – and, as the Son of Man, Christ receives the kingdom or entitlement to rule on this earth (Dan. 7:13, 14).  Although Satan had usurped the authority that God originally gave to Adam, Christ came as the second Adam, the new head of the human race, to claim back the dominion and be our King (Heb. 2:6-9).  So, we will be kings and priests, and Jesus will be our King – King of kings and Lord of lords – subject to His Father (1 Cor. 15:24-28).
Conclusion
In conclusion, let us know the real Jesus and how He conquered.  He came from heaven where He was the Son of the Sovereign God who is King of the universe.  He came to earth as a human being, where He conquered through a life of humility and ultimate death as a Lamb to the slaughter.  He was raised from the dead by His Father (Gal. 1:1) and has now been "highly exalted" at the right hand of His Father where He intercedes for us.  He will soon be given the kingdoms of this world and He will return to claim it.
At the second coming of Christ, the dead in Christ will be raised and with the living saints, who will be changed from mortal to immortality, be taken to heaven to spend a thousand years.  After the thousand years, we will come back to earth with Him.  Satan and all evil will then be destroyed, and the earth will be restored to perfection (1 Cor. 15:22, 23; Rev. 20:1-21:5; Rev. 15:2, 3; Rev. 4:2-6).  We will live with God and Christ forever, in the newly restored earth – "And I saw no temple therein: for the Lord God Almighty and the Lamb are the temple of it." (Rev. 21:22).
Christ himself will also be subject to His Father – "Then cometh the end, when he shall have delivered up the kingdom to God, even the Father; when he shall have put down all rule and all authority and power. 25 For he must reign, till he hath put all enemies under his feet. 26 The last enemy that shall be destroyed is death. 27 For he hath put all things under his feet. But when he saith all things are put under him, it is manifest that he is excepted, which did put all things under him. 28 And when all things shall be subdued unto him, then shall the Son also himself be subject unto him that put all things under him, that God may be all in all." (1 Cor. 15:24-28).
May the Lord help us to know the real Jesus and how He has conquered; and further, grant that we might overcome with Him and share in the glories of the earth made new – "To him that overcometh will I grant to sit with me in my throne, even as I also overcame, and am set down with my Father in his throne." (Rev. 3:21).
"He that hath ears to hear, let him hear" (Matt. 11:15).
For further information, please visit Patience of the Saints at http://thecommandmentsofgodandthefaithofjesus.com/
Questions and comments may be sent by e-mail to: commandmentsofgodandfaithofjesus@yahoo.com
Follow on Twitter @JaZerubbabel