Christ in You – What does it mean?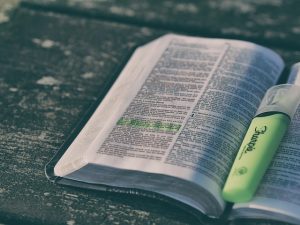 Christ in You – What does it mean?
It is very common for professed Christians to speak about Christ being in them or the Holy Spirit living in them or similar expressions.  But it is clear that there is no consistent understanding by all as to what is meant by such expressions.  In one case, it is meant that the character of Christ is in you while in the other case it is meant that Christ personally is inside of you.  We'll examine both concepts.
The first idea is hinged on the view that Christ is a person with bodily form, who can be touched, as Thomas was told to touch Him and see that He is real.  Within this perspective, it is understood that Christ left and went back to heaven and has promised to return.  We await His return.  He has, however, sent the Comforter as His representative to minister to us through the constant companionship of our personally assigned guardian angel and other angels who go back and forth between us and Christ in heaven.  Christ is in heaven advocating on our behalf before His Father.   By our constant interaction with God and Christ through their representatives, we receive light, love and power that transform us so that we become like Christ in character.  In this sense, God and Christ dwell in us.  God, the Father, is referred to in Scripture as the eternal spirit and Jesus Christ, the only begotten son of God, is the express image of His Father's person.
The second idea is hinged on the view that Christ is personally everywhere.  So, even though He has a body, His body is really just an image through which He chooses to manifest himself because he is simultaneously elsewhere in other bodies, speaking and acting personally.  This is a form of what is called pantheism.  This view is unscriptural, it makes the work of angels redundant, it makes the Father redundant and it promotes image worship.  There are some other issues that arise from this second idea and these will now be further discussed.
This second idea results in what the Bible describes as people having a form of godliness but denying the power to perfect Christian character.  It is felt that Christians cannot be perfect in character – that, only Christ can be perfect in character, and so unless He lives inside of us and acts through our bodies, no perfection of character can be manifested in us.  This makes our minds redundant.
This view, further, maligns Christ by associating Christ with our misbehaviour.  If Christ is personally inside of you, directing your behaviour then your misbehaviour is Christ's misbehaviour.  If your misbehaviour is your own and not Christ's then Christ is taking turns with you (or with Satan inside of you) in directing your behaviour – still maligning Christ.  The Bible says we should not be "unequally yoked together with unbelievers: for what fellowship hath righteousness with unrighteousness? and what communion hath light with darkness?" (2 Cor. 6:14).  But the truth is that Christ has no fellowship with evil, for "If we say that we have fellowship with him, and walk in darkness, we lie, and do not the truth" (1 John 1:6).
This second idea also sets the stage for idolatry.  If Christ is inside of you then what prevents someone from bowing down before you and worshipping Christ inside of you?  Why look to Christ in heaven?  If He is here, why not worship Him and look to Him here, where He is?
Another issue arises, if Christ lives inside everyone who asks Him then every professed Christian is saved.  But the Bible clearly teaches that many will take unto themselves the name of Christ and He will say to them that He never knew them (Matt. 7:20-27).
This error takes away our responsibility to live a holy life and places it on Christ.  Christ would have no moral authority to hold you accountable for your actions.  Once you say, take me Lord, live in me and make me righteous, either He is going to refuse and leave you unrighteous or He is going to accept your invitation and make you righteous.  You would have done your part.   So, in either case, any failure in you to be righteous would be Christ's failure.
The Biblical truth is stated clearly as follows:
"For the grace of God that bringeth salvation hath appeared to all men, Teaching us that, denying ungodliness and worldly lusts, we should live soberly, righteously, and godly, in this present world; Looking for that blessed hope, and the glorious appearing of the great God and our Saviour Jesus Christ; Who gave himself for us, that he might redeem us from all iniquity, and purify unto himself a peculiar people, zealous of good works. These things speak, and exhort, and rebuke with all authority. Let no man despise thee." (Titus 2:11-15).
We are further told:
"The expulsion of sin is the act of the soul itself.  True, we have no power to free ourselves from Satan's control; but when we desire to be set free from sin, and in our great need cry out for a power out of and above ourselves, the powers of the soul are imbued with divine energy of the Holy Spirit, and they obey the dictates of the will in fulfilling the will of God." – Ellen G. White, The Desire of Ages, pg. 465-466.
"He that hath ears to hear, let him hear" (Matt. 11:15).