July, 2019
now browsing by month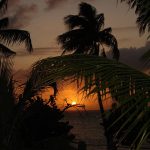 One of the most foundational bases for Christian faith is the fact that God forgives.  If there was no forgiveness, all hope would be lost because we are all sinners – "For all have sinned, and come short of the glory of God" (Rom. 3:23).
We have been given the assurance that God will forgive the vilest sinner and will cast his sins to the bottom of the sea and will remember them no more – "He will turn again, he will have compassion upon us; he will subdue our iniquities; and thou wilt cast all their sins into the depths of the sea." (Micah 7:19).  The parable of the prodigal son aptly illustrates God's eagerness to forgive us even after we have messed up – "But when he was yet a great way off, his father saw him, and had compassion, and ran, and fell on his neck, and kissed him." (Luke 15:20).  Jesus's treatment of the woman caught in adultery challenged the accusers.  He told them, "He that is without sin among you, let him first cast a stone at her" (John 8:7), while He tells the woman, "Neither do I condemn thee: go, and sin no more." (John 8:11).
Turned away
But strangely enough, the Bible also speaks of instances where persons will be turned away by God.  An examination of a few such cases should help us to determine what might be the reasons and help to put us in a better position to avoid being turned away.
1. Jesus speaks of some who would have ardently professed to be His followers who will be turned away at the last day.  Why?  Because, they failed to do His Father's will – "Not every one that saith unto me, Lord, Lord, shall enter into the kingdom of heaven; but he that doeth the will of my Father which is in heaven. Many will say to me in that day, Lord, Lord, have we not prophesied in thy name? and in thy name have cast out devils? and in thy name done many wonderful works? And then will I profess unto them, I never knew you: depart from me, ye that work iniquity." (Matt. 7:21-23).  So, if we want to be accepted by Christ, we can't be doing our own thing.  We must seek to do the will of God.
2. There are others who seek forgiveness from God, but they do not forgive their fellowmen.  They too will not be forgiven – "For if ye forgive men their trespasses, your heavenly Father will also forgive you: But if ye forgive not men their trespasses, neither will your Father forgive your trespasses." (Matt. 6:14, 15).  This is further illustrated in the parable of the unforgiving servant who refused to forgive his fellow servant after his master had forgiven him.  His master withdrew his forgiveness and demanded that he pay all his debts.  Jesus said that this is how it will be for those who refuse to forgive others – "So likewise shall my heavenly Father do also unto you, if ye from your hearts forgive not every one his brother their trespasses" (Matt. 18:35).  So, if we want God to forgive us, we must forgive others.
3. Then there are the selfish ones who live only for themselves and fail to help others in distress.  They will be numbered among the goats who will be told to depart from Christ when He separates the sheep from the goats – "Then shall he say also unto them on the left hand, Depart from me, ye cursed, into everlasting fire, prepared for the devil and his angels: For I was an hungred, and ye gave me no meat: I was thirsty, and ye gave me no drink: I was a stranger, and ye took me not in: naked, and ye clothed me not: sick, and in prison, and ye visited me not. Then shall they also answer him, saying, Lord, when saw we thee an hungred, or athirst, or a stranger, or naked, or sick, or in prison, and did not minister unto thee? Then shall he answer them, saying, Verily I say unto you, Inasmuch as ye did it not to one of the least of these, ye did it not to me. And these shall go away into everlasting punishment: but the righteous into life eternal." (Matt. 25:41-45). So, if we want to remain in favour with God, we must be kind to others.
Presumptuous sin
4. Those who sin presumptuously will not be forgiven either – "But the soul that doeth ought presumptuously, whether he be born in the land, or a stranger, the same reproacheth the Lord; and that soul shall be cut off from among his people. Because he hath despised the word of the Lord, and hath broken his commandment, that soul shall utterly be cut off; his iniquity shall be upon him." (Num. 15:30, 31).  But wait a minute.  Isn't that only an Old Testament concept?  Not quite.  It is a New Testament concept too – "If any man see his brother sin a sin which is not unto death, he shall ask, and he shall give him life for them that sin not unto death. There is a sin unto death: I do not say that he shall pray for it." (1 John 5:16)
What is the sin unto death that you should not pray for?  Notice, first, that it is not the sinner who is praying here.  This is speaking about praying on behalf of someone else.  Let us be clear, God always hears and answers the prayer of the repentant sinner.  But the presumptuous person does not even see the need to repent.  No amount of prayer on his behalf can save him if he does not repent "because he hath despised the word of the Lord, and hath broken his commandment".  At the root of presumptuous sin is despising the word of the Lord.  So, if we want to be forgiven, we must repent and not despise the word of the Lord.
God's word and rebellion
Presumption comes in various forms.  Like Cain, one may decide that, although God asks for a lamb, fruits should be just as good, and may decide to offer fruits instead of a lamb; the result being that we are rejected, as was Cain – "And the Lord had respect unto Abel and to his offering: But unto Cain and to his offering he had not respect." (Gen. 4:4, 5).  God may ask for the seventh and one decides that the first is just as good or even better.  God may say two and we decide that it should be three.  Let us beware, lest we find ourselves in rebellion against God!
Christ will be our advocate if we are willing to accept God's word and keep His commandments – "My little children, these things write I unto you, that ye sin not. And if any man sin, we have an advocate with the Father, Jesus Christ the righteous: And he is the propitiation for our sins: and not for ours only, but also for the sins of the whole world. And hereby we do know that we know him, if we keep his commandments." (1 John 2:1-3); Jesus said: "If ye love me, keep my commandments." (John 14:15).
Sin is ultimately a condition of the heart – rebellion against God.  That is how it started in heaven with Lucifer who became Satan (Isa. 14:12-15).  There is no cure for genuine rebellion.  That is Satan's condition.  We might be deceived or, like Jesus's disciples, "the spirit indeed is willing, but the flesh is weak." (Matt. 26:41).  If that is the case for us, there is a remedy.  When we are made aware of our mistakes, if we are sorry, we have a mediator who will present our case and God will forgive us, because we are not genuinely seeking to rebel against Him or seeking to do our own thing.  Our repentance and willingness to obey Him serve as proof that we are not with Satan.
Salvation and the Son of God
The plan of salvation was made in the heavenly council between God, the Father, and Jesus Christ, the Son of God; – "the counsel of peace shall be between them both" (Zech. 6:13).  God sent His only begotten Son into the world that we might live through Him (1 John 4:9).  He is our mediator and the only one through whom we have access to God – "For there is one God, and one mediator between God and men, the man Christ Jesus" (1 Tim. 2:5).  The Son of God came to earth to reveal to us how much God loves us and to represent us before God.  He receives from God, His Father, and gives to us.  He told us to ask the Father for whatever help we need.  We should ask in His name, and the Father will give it to us – "And in that day ye shall ask me nothing. Verily, verily, I say unto you, Whatsoever ye shall ask the Father in my name, he will give it you." (John 16:23).  The Father will give us the Holy Spirit if we ask Him – not that we should ask the Holy Spirit to come to us or fill us, but rather that we ask the Father to give us the Holy Spirit – "If ye then, being evil, know how to give good gifts unto your children: how much more shall your heavenly Father give the Holy Spirit to them that ask him?" (Luke 11:13). We should not run the risk of despising the word of God by deciding that our requests should be directed to the Holy Spirit rather than to God himself through Jesus Christ.
Let us, by God's grace, accept God's word and not add to it nor subtract from it, lest we are found to be liars – "Add thou not unto his words, lest he reprove thee, and thou be found a liar." (Prov. 30:6).  Being found a liar, we run the risk of hearing from His lips, the fateful words, "I never knew you: depart from me, ye that work iniquity." (Matt. 7:23).  If we seek peace and forgiveness, we should cooperate with Him and avoid following human devising.
Forgiveness
So, we have seen that God forgives.  But God's forgiveness is not given without consideration of our attitude and behaviour.  Certain attitudes and behaviours on our part can result in us not being forgiven and ultimately result in us being turned away by God.  But hold a moment.  Is it not the case that the death of Christ has provided unconditional forgiveness for all humanity and all we need to do is simply accept that we are already forgiven?  Not quite.  Christ came in place of Adam and bore the penalty for the sin of Adam; whose sin had condemned all humanity – "For as in Adam all die, even so in Christ shall all be made alive." (1 Cor. 15:22).  Having borne the penalty for Adam's sin, forgiveness has been unconditionally provided for all humanity for that sin – "But God commendeth his love toward us, in that, while we were yet sinners, Christ died for us. Much more then, being now justified by his blood, we shall be saved from wrath through him. For if, when we were enemies, we were reconciled to God by the death of his Son, much more, being reconciled, we shall be saved by his life." (Rom. 5:8-10).
We are "now justified" by the blood of Christ that has been shed for us, even "while we were yet sinners".  When "we were enemies, we were reconciled to God" from the condemnation caused by Adam's sin. But we are not yet saved because, apart from Adam's sin, we have sins of our own. Even though we are not condemned for Adam's sin, we could not be saved if we choose to remain enemies, committing sins of our own. We "shall be saved from wrath through him".  How? By repenting of our own sins and accepting God's power to stop committing them – "Repent ye therefore, and be converted, that your sins may be blotted out" (Acts 3:19).
No one will ever be called upon to bear any penalty for Adam's sin; we only suffer consequences of the degradation around us and in us caused by it.  But in order to be forgiven for our own sins, we must repent of them.  Nobody can do that for us. And we cannot get forgiveness in advance, before committing a sin. If we sin and are sorry, we repent, and we are granted forgiveness.  Let us, by God's grace, repent of our sins and ask God, through His Son Jesus Christ, for the Holy Spirit, so that we may both will and do His good pleasure (Phil. 2:13).
"He that hath ears to hear, let him hear" (Matt. 11:15).
For further information, please visit Patience of the Saints at http://thecommandmentsofgodandthefaithofjesus.com/
Questions and comments may be sent by e-mail to: commandmentsofgodandfaithofjesus@yahoo.com
Follow on Twitter @JaZerubbabel